Best cheap phones in the US for 2017
Update: There's a new winner among the best cheap phones in America and it's the newest version of an old favorite from Motorola. There is another new addition to the list from Moto, as well as an honorable mention that sits just outside of the $ 300 threshold. Here's our top 10 list. 
The best cheap phone in the US is a complicated find in 2017, as carriers want to lock you into contracts even at budget prices. You want to pay less money, not more, right?
That's why we've harnessed our cheap smartphone expertise and tested hundreds of inexpensive phones to rank the best options. Unlocked, no contract and SIM-free phones are among the top ten.
And good news: while many are $ 200 or less, you'll actually recognize the names: Motorola, Google, Sony and Apple. Others may be new to you, namely Honor, ZTE and OnePlus, but they're just as worthy of your consideration.
No, these aren't the absolute best phones in the US, so you won't find the top tier iPhone 7 Plus or Samsung Galaxy S8 Plus here. Likewise, the 4-inch iPhone SE is $ 399, so it misses the mark by $ 100, as lovely as it is.
But every cheap phone here is perfectly fine for everyday use by someone looking to save money on a discounted iOS 10 or Android Nougat handset.
The best really cheap phone under $ 160
If you're looking for a smartphone with no contract that's just above $ 100, this is our pick at the moment, mainly because it's been heavily discounted today.
It costs $ 109 through an Amazon flash sale (normally $ 159), and that gets you an Android phone with an HD display, metal design and large 4,000mAh battery. It's also a dual-SIM phone, making it a great phone for travelers, and it comes with a case and has an okay camera (good in daylight, poor in lowlight).
This phone is strictly for the sub-$ 200 crowd because it can't play 3D games well, has no fingerprint sensor and runs an older version of Android. It's capable of the basics, and gets you a ticket to the Google's app ecosystem.
Read the full review: Blu Plus R1

The best cheap phones under $ 300
The Moto G5 Plus is the best cheap phone you can buy today mainly because it doesn't look or feel like a budget phone It has a metal design, a 5.2-inch Full HD screen, a fingerprint sensor, fast charging, and 64GB of internal storage with a microSD card slot.
Compatible with all US carriers, including Verizon, AT&T, T-Mobile and Sprint, the G5 Moto Plus also comes with Android 7.0 Nougat and Google Assistant, which we've found to rival Siri. It has a Snapdragon 625 chipset, and while it's not the fastest in the world, it's enough to play games and multitask. The only features you're missing out on vs the higher-priced Moto Z are a better camera, VR capabilities and MotoMods. Most people will do just fine with this phone, which is almost one-third the price of Motorola's flagship.
Amazon is offering the Moto G5 at an even deeper discount to Prime members. It's just $ 239 with Amazon's lockscreen ads, or the normal $ 299 without those ads for everyone else.
Read the full review: Moto G5 Plus
If you're looking for a cheap smartphone that costs just $ 129, you can get that with Motorola's last-generation Moto G4, which remains a top pick for us.
It has a 5.5-inch Full HD display and a Snapdragon 617 chipset with 2GB of RAM and up either 16GB or 32GB of internal storage. Don't worry, too much, it has a microSD card slot in case you run out of space. You still won't get NFC or VR compatibility, but this phone does everything else you need on a daily basis and works on all major US carriers.
Read the full review: Moto G4
It's really, really difficult to fit an Apple phone on a best cheap phones list, but there has to be at least one that's inexpensive enough for iOS fans who refuse to try the cheaper Android phones above.
The cheapest is iPhone 5S. When it was last sold through the Apple Store, it cost $ 450 without a contract – until the iPhone SE showed up and replaced it. That was too expensive to consider here.
Now it's the cheapest iPhone we can find thanks to retailers like Amazon. It's under $ 299 through the main store and many third-party sellers are hawing it for under $ 199. 
You're only getting 16GB But you can find it in space gray, silver or gold, has Touch ID and a still-impressive 8MP camera and runs iOS 10.
Read the full review: iPhone 5S
While ZTE might not be the world's most recognizable smartphone brand, the Max XL is a sign that it knows how to make a good, affordable product.
Somehow, this 6-inch device is just around $ 130 and comes packed with a fingerprint sensor, 16GB of storage, a microSD card slot, and enough power to handle medium-sized loads of gaming and multi-tasking.
We think you'll be pleasantly surprised at every turn with the Max XL, as we were. In terms of specs, it rivals the Moto G5 found outside of the US and at that, it can hold its own to last year's budget Moto lineup.
The big downside is that it's currently only available for Boost Mobile, but that may change in the future. Even so, this device is one of the best, most-surprising values to come out of 2017 so far.
Read the full review: ZTE Max XL
The Moto E3 isn't our favorite cheap phone in the world right now… it's not even the best cheap phone from Motorola – those are the Moto G5 Plus and Moto G4 Plus. 
But if you're looking for a truly affordable device that doesn't sacrifice too much to meet an attractive price tag, the Moto E4 is still a good option you could take a look at. We particularly liked the slick design, Android 7 software, fingerprint sensor and the value of the phone.
There's still the issue of it only having 16GB of storage and the performance isn't fantastic, but if you can get over those issues the Moto E4 will be a great phone for you.
Read the full review: Moto E4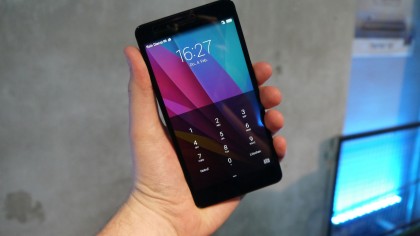 If value is your main concern, the Honor 5X is an excellent option. While it doesn't run on stock Android like the other 5X (Nexus 5X), Honor's budget phone has a more premium look and packs more performance per dollar than many of the entries on this list, though it obviously pales in comparison to that of true flagship devices.
What the Honor 5X lacks in a standout feature, it makes up for being a good all-around workhorse for work and play. Better yet, it comes at a price that's pretty easy to swallow.
Read the full review: Honor 5X
Considering its relatively low $ 300 (£299) price, the Sony Xperia XA Ultra is a rather brazen phone for being mid-range. It's powerful enough to handle everyday tasks and its looks show that you're definitely getting your dollar's worth here in that regard.
Although this phone is short on surprises, the competent front-facing camera feels like a unique trait, and one that we hope comes back in the future. You'd think this sort of feature would be a better fit in Sony's flagship product, but it's good to see the company innovating in the mid-range sector.
If you're in need of a solid performer that won't break the bank, and you don't mind the palm-stretching build of the XA Ultra, then you might have just found your next phone.
Read the full review: Sony Xperia XA Ultra
Lenovo has seamlessly continued Motorola's good work, refining this popular budget range and elevating expectations about what you can reasonably expect in a relatively cheap Android phone.
The gap between the Moto G4 Plus and the latest batch of Android flagships is not as wide as I expected. It's a pleasurable device to use, and it represents good value for money.
If you've been looking for something with a big screen and a good camera, and you can stretch beyond the bottom tier, the Moto G4 Plus is definitely a good buy. Bargain hunters, however, might have trouble looking past the cheaper, but very similar Moto G4. 
Read the full review: Moto G4 Plus
The Nextbit Robin isn't like most phones. First off, its design sets it apart from the get-go. Available in mint (as seen above) and red, the Robin pushes a bold visual statement that makes other devices look boring.
But thankfully, it's not all talk: Nextbit's tweaked version of Android Marshmallow (and soon, Android Nougat) allows users to take advantage of 100GB of free cloud storage to offload apps, games and photos to make way for what space you might need to use.
In addition, it's just a slick phone that doesn't shirk on features. You'll commonly find the Robin under the $ 200 mark. And, so long as you're on a GSM carrier, this could be your next device.
Read the full review: Nextbit Robin
The more expensive 4GB ASUS Zenfone 2 was a tough sell for us, only because it brought powerful specs and Android customizations, yet wrapped it all in a plastic phone at $ 299.
Much less of an oxymoron is the 2GB Asus Zenfone 2, at a more reasonable $ 199. It feels just as cheap, but for a much more appropriate price. You just have to deal with its slower processor.
Intel is powering both variants, and this phone has a 1.8GHz Intel Atom Z3560 quad-core chip, ditching the more commonly used Qualcomm Snapdragon processors.
Its roomy 5.5-inch display, 1080p resolution and Android software tweaks are the real highlights. Screen brightness and camera are literal lowlights, but you can't win them all with a cheap phone.
We were able to test out the forthcoming Asus Zenfone 3 Deluxe, but with its more powerful specs and all-metal design, it'll likely cost much more than the cheapest Zenfone 2.
Read the full review: Asus Zenfone 2
Also consider
I'm surprised by the Asus Zenfone 3 Zoom. While I was fairly impressed with its specs and the much-improved design over the original Asus Zenfone Zoom, its direct predecessor, I wasn't completely sold. That's mostly because I didn't know how much it would cost. 
At $ 329, not only is it cheaper and far better than the Zenfone Zoom, it's one of the best mid-tier options available. Asus' ZenUI has improved to the point where it's no longer a red flag for most users and the value here in terms of spec and design is tough to beat. 
While not perfect in its execution, it's full of crowd-pleasing features and rocks a pleasing design that defies its price point, coming together as a smart buy for just about anyone.  
Read the full review: Asus Zenfone 3 Zoom